The Asics Dirt Dog 3 is a cross country spike designed for serious runners competing at 3k to 10k distances. Best for grass, dirt, or rubber surfaces, the Dirt Dog 3 features a PU and Nylex outsole for grip and flexibility.
In 2009, the successful Dirt Dog line was updated with some new features while leaving its old strengths intact. The Dirt Dog 2 incorporated some flower-shaped rubber screw-in lugs to handle the question of spikes versus flats.  The Dirt Dog 3 returns to the basics by dropping the lugs and offering a more conventional metal spike platform that performs beautifully on all-natural courses. These new Asics running spikes should make some of the more traditional cross country runners happier.

The Dirt Dog 3 has a see-through mesh upper, offering superior breathability and reduced weight compared to the Dirt Dog 2. A 6-spike design combines with a DuoSole outsole to guarantee great traction and flexibility. These Asics spikes offer great performance on grass and dirt.
This shoe is the CURRENT model, released in June 2009. Its predecessor was the Asics Dirt Dog 2 .
Men's Models
Check out the Asics Dirt Dog 3 at Road Runner Sports and Foot Locker (click on a picture below)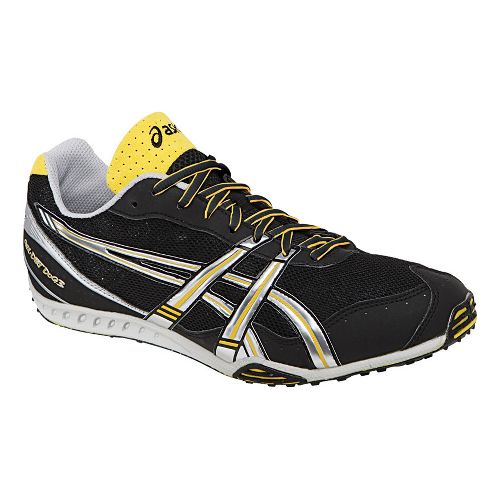 Related Shoes
Colors Available
Black / Silver / Yellow
White / Silver / Red
Fit
Sizing: standard running shoe length
Mid-foot: Medium to low volume
Forefoot: Medium
Toe-Box height: Medium-low
Arch structure: Medium height
Width D=Medium
Cushioning
Rearfoot Gel cushioning system is a silicone based gel that absorbs shock during impact.
Midsole
Solyte is Asics' top of the line cushioned and responsive midsole. Solyte is very light for the level of cushioning and durability it delivers.
Trusstic System is located at the bottom of the midsole and is made from thermal plastic. It reduces the weight of the sole while decreasing torsion between the rearfoot and forefoot.
Upper
Open mesh encompasses the majority of the upper and offers breathability to keep the foot cool.
Asics logo is located at both the medial and lateral sides of the upper to keep the shoe snug to the foot.
Slip Lasting involves wrapping and stitching the upper in a bootie-like shape before it is glued to the midsole to increase flexibility and decrease weight.
Outsole
PU and Nylex outsole is full length and is composed of polyurethane lugs engineered for traction which is layered over a soft flexible plastic.
Contains 6 spike receptacles per shoe.
Model Number: G908Y Asics Men's Gel Dirt Dog 3
Go back to Cross Country Running Shoes 101 home.